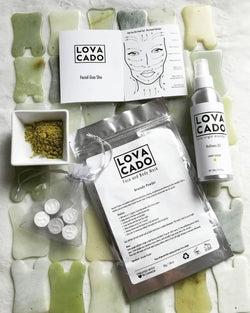 Home Spa Set
Transform your washroom into a sanctuary spa. Indulge your skin and senses to a combination of quality spa treatments at home.
Lovacado Oil - Moisturize from head to toe with one ingredient, extra virgin avocado oil for skin and hair care. 
Jade Gua-Sha Tool - Traditional Chinese massage tool for the face and body. Helps release fascia and revitalize tight muscles.
Avocado Powder Face & Body Mask - Prepare your skin and indulge in a deep penetrating facial mask. In less than five minutes, the skin will feel and look amazing. it also includes 5 compressed dry sheet masks to simplify your routine.

This set is the perfect gift for anyone who wishes to practice self-care rituals.